LanTel Cloud is hét totaalpakket voor telecom in de zakelijke markt. Het zijn vijf diensten die zowel los als gezamenlijk te gebruiken zijn. LanTel Connect, LanTel SIP, LanTel Hosted en LanTel Mobile vormen gezamenlijk de LanTel Cloud. Daarbovenop bieden we je onze LanTel Service om als klant het maximale uit je diensten te halen en de beste ondersteuning te krijgen.
Combineer je alle vijf de onderdelen tot één naadloze oplossing, dan ervaar je het maximale gemak van communicatie met LanTel Cloud!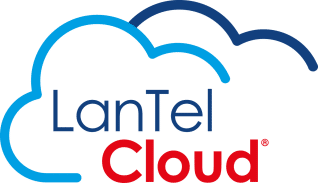 Eindeloos veel voordelen met LanTel Cloud
Met de LanTel Cloud ben je verzekerd van eindeloos veel voordelen en onbeperkte functionaliteiten. Wij doen het alleen net even anders:
Bij ons is een mobiele telefoon onderdeel van het telefoniesysteem. Dat betekent dat je alles eindelijk centraal kunt regelen; overdag stuur je een zakelijk vast nummer uit en na kantoortijd automatisch je privé 06-nummer. Dat allemaal zonder het gebruik van een app. Je gebruikt je toestel gewoon zoals je altijd al gewend bent.
We benaderen communicatie met het bellen naar een persoon in plaats van te bellen naar een telefoonnummer. Want zeg nou eerlijk, hoeveel telefoonnummers weet jij nog uit je hoofd? En je collega is toch ook geen nummer? Die wil je gewoon bellen op basis naam.
Elke doorverbinding is er één teveel. Het liefst willen we direct de juiste persoon aan de lijn. Wat nou als wij het systeem een handje kunnen helpen en daar voor zorgen?
Af van die ouderwetse extra nul voor een buitenlijn, maar gewoon direct bellen.
We laten klanten graag zelf in control. Waarom zou je iedere wijziging door onze support medewerkers laten uitvoeren als je dit net zo snel en gemakkelijk zelf kunt doen. Én dat in slechts een paar muisklikken.
We koppelen standaard je telefoniesysteem aan jullie ICT-omgeving. Dat zorgt ervoor dat je gemakkelijk via je PC gesprekken kunt ontvangen of initiëren.
LanTel Cloud biedt je de mogelijkheid om alle soorten bedrijfscommunicatie samen te voegen en bij één partij onder te brengen. Wij gaan onze verantwoordelijkheden niet uit de weg en nemen elke klant en haar bereikbaarheid serieus. We houden niet van het 'kastje naar de muur'-principe of met het vingertje wijzen; als iets niet functioneert, dan is dat ons probleem en lossen wij dit voor je op.
Alles rondom de communicatie wordt op één overzichtelijke factuur gezet, weg met al die onoverzichtelijke administratie. Mocht er onverhoopt een storing zijn, onze support is dag en nacht bereikbaar en je krijgt persoonlijk contact met een medewerker die verstand van zaken heeft.
Waar wacht je nog op? Join the LanTel Cloud!